Safe Mobility at Schools in UAE
Michelin, the world leader in tyre technology, conducted tyre health check activity at schools in UAE, to ensure road safety of kids in vehicles.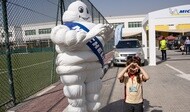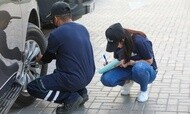 In the UAE about 2 per cent of road traffic deaths are linked to poor tyre maintenance. Abu Dhabi police stated, that 9 per cent of fatalities were attributable to underinflated or damaged tyres.  Tyre defects are potential safety hazards for motorists and their passengers, and we are especially concerned when it comes to the safety of our children. Hence, Michelin teamed up with RoadSafetyUAE and leading schools in the UAE to run the CSR Campaign 'Safe Mobility at Schools'.
The first campaign was run in GEMS Modern Academy in Dubai's Nad Al Sheeba area where the cars of the parents were inspected. The tyre health check included pressure, tread depth and any visible damages.  The objective was to raise the awareness for proper conduct on our roads, in an engaging manner and on a broadly communicated and permanent basis.